Natasha Jonas has received an offer to fight Claressa Shields in what would be a major clash between the in-form fighters of world boxing.
At the recent British Boxing Board of Control Awards Jonas made history when she became the first woman to win Boxer of the Year, the annual prize awarded to the best boxer at any weight in the UK.
Claressa Shields, who beat Savannah Marshall last October to win the undisputed middleweight title, was the Overseas Boxer of the Year at the same ceremony.
Don't miss Sky Sports' Story of Shields v Marshall

The unbeaten Shields has previously gone undisputed at super-welterweight, the division where Jonas now is the unified WBC, WBO and IBF champion.
Dmitry Salita and Mark Taffet, Shields' representatives, have made an offer for Shields to return to 154lbs to box Jonas.
"There was an offer on the table," Joe Gallagher, Jonas' trainer and manager told Sky Sports.
But he added: "Salita and Mark, they've always been pushing for women's pay and Claressa's seven-figure sums and raising the bar of women's boxing… Then to come with the offer that they did do for her to fight Claressa, the money wasn't worthy of the magnitude of the fight.
"If the shoe was on the other foot, they would have turned it down. As Tasha said, she's got three belts," Gallagher continued. "Claressa's coming down to fight for her old belt and it's a big fight.
Savannah Marshall discusses Claressa Shields' 'disgraceful' attitude, Peter Fury's tactical gamble, and a possible fight against Franchon Crews-Dezurn.

"If I'm selling you a 10 grand car, if I offer you a grand it doesn't mean you've got to take it and that's the same thing. Like Tasha says, you've made me an offer but the offer wasn't good enough.
"It's not in her control, it's in their control. So if they want to come back and make her a better offer, the fight can be done. You've got to understand it from Natasha's point of view.
"That's the biggest, hottest fight to be made in world boxing at the moment, the two in-form fighters. It's a huge task and challenge for Natasha."
But he insisted Jonas "could cause problems," noting: "The girls are willing to fight each other. You've got to give them huge credit for that.
"It would be good if this fight could be made."
Johnny Nelson and Gary Logan debate whether Savannah Marshall's epic clash with Claressa Shields was the best fight of 2022.

He warns against anyone writing Jonas off.
"She started with Terri Harper and everyone apart from two men sat round the ring knew Tasha won that one," Gallagher said. "Tasha was the closest to beating Katie Taylor if you look at the scorecards.
"There's not appetite for a rematch there yet."
Jonas was the success story of British boxing in 2022. She jumped up three weight classes to knock out Chris Namus and win the WBO super-welter title. The Liverpudlian subsequently defeated Patricia Berghult and Marie Eve Dicaire to unify the WBC and IBF 154lb titles as well.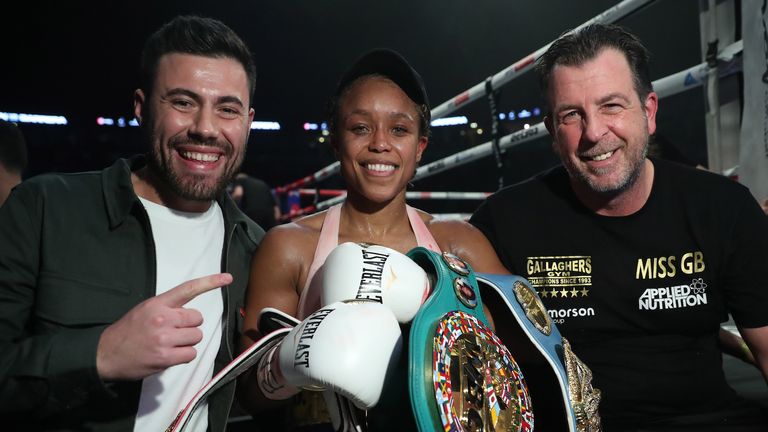 "People thought that was her done, she came back, she got people around her that believed in her and gave her the opportunities," Gallagher said. "They lined them up and she put them over.
"Natasha was a breath of fresh air last year to win three world title fights," he continued. "A fantastic year.
"She had to dig in and she beat two champions, who were good champions and she beat them well.
"It's hard to beat, the story and the performances, they got better and better and better."