Antonio Conte believes Tottenham want to keep Harry Kane for the rest of his career, despite speculation over the striker's future at the club.
Sky Sports News revealed this week that Spurs will not consider selling Kane, who has one year left on his current Spurs contract, in the summer transfer window if he does not extend his contract.
Should Spurs fail to tie Kane down to new terms this year, then the saga surrounding the England captain could move into the January transfer window, where he can speak to clubs from abroad on a pre-contract agreement.
Asked for his opinion on Kane's future, Conte said: "I think this is a question for the club. For sure the club wants to involve Harry Kane for the rest of his career, in my opinion.
"Because when you have this type of player, a world-class striker like him, you want him to stay here for the rest of his life.
"But then, you know football. Sometimes it's unpredictable but it's not in my task to make a decision. This is the decision for the club and for Harry."
Spurs prioritising Kane deal but remaining patient
Sky Sports News' senior reporter Melissa Reddy:
Kane's presence and contribution to Spurs is more valuable than the transfer fee he could amass, especially as they face a summer of transition with manager Conte set to depart and football director Fabio Paratici's future uncertain.
Melissa Reddy with the latest as Harry Kane's future could be unresolved heading into the January window with Tottenham not willing to sell him this summer

Manchester United, long-term admirers of Kane, retain a strong interest in the 29-year-old but cannot afford a transfer saga in a priority position. Erik ten Hag wants a forward recruited as early as possible and his ideal scenario is to have new signings in place for the bulk of pre-season.
United would "absolutely" explore a deal for the striker if everything aligned and Spurs switched from obstinate to being open to business. However, there is no appetite for a war of attrition with Tottenham chairman Daniel Levy.
Depending on their summer trading and the profile brought into the attack – United are very mindful of having to sell well and comply with Financial Fair Play regulations – they could revisit the Kane situation in January.
United have cast a wide net over dynamic options, with the likes of Victor Osimhen, Goncalo Ramos, Lautaro Martinez, Dusan Vlhaovic and Mohammed Kudus assessed.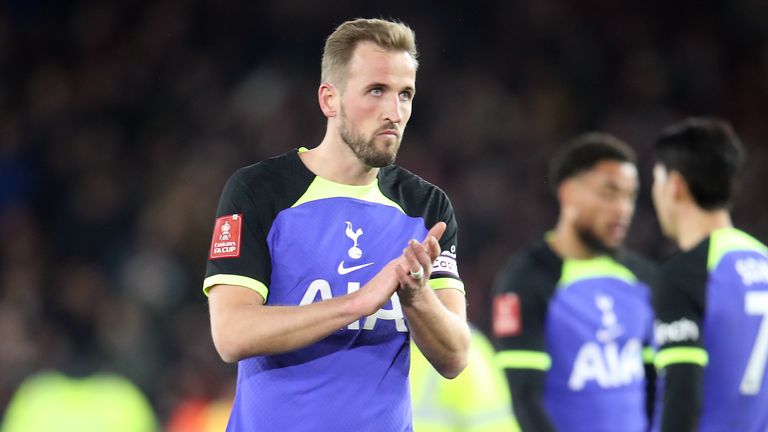 If Tottenham hold firm as planned this summer and still cannot get Kane to agree a new deal as the winter window approaches, he would be free to sign a pre-contract agreement with an overseas club in January – a situation Bayern Munich are particularly invested in.
Much will depend on where Spurs (and United) finish domestically this season, as well as who succeeds Conte. Mauricio Pochettino would convince Kane to extend his deal if appointed, while sources close to the player believe he could also be swayed by an ambitious hire like Thomas Tuchel.
He is not at the age to "front another project and rebuild." Kane wants to win and add silverware to a career of great professionalism, consistency and scoring excellence. He does not want to be remembered as "the guy who broke goal records but didn't have any trophies to show for it."
Conte on his future: I'm more than 100 per cent committed
Conte was also asked about his own future at Tottenham, with the Italian manager's contract expiring at the end of the season.
Speculation is mounting over whether the Italian, who is only recently back from an extended break recovering from gallbladder surgery, will continue as Spurs boss after failing to secure a trophy this season.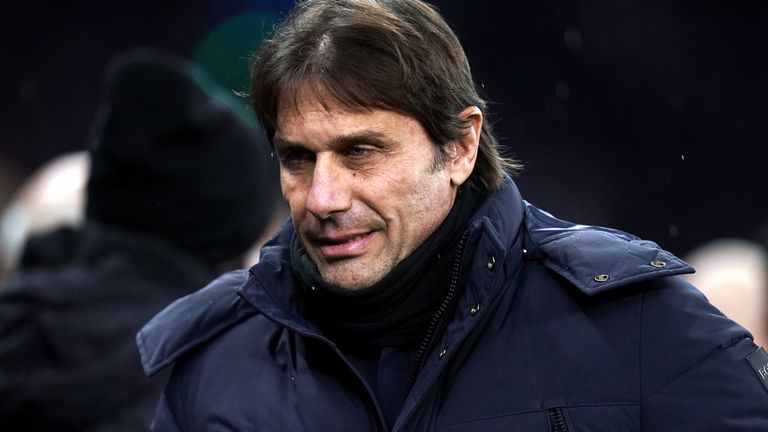 "I think that we have to accept every type of situation," said Conte when asked if speculation of other managers being hired at Tottenham affects him.
"The most important thing to know is that you are working very hard every day at the club that you are working for.
"For the manager, it's important to do this and to know that you are giving not 100 per cent, but much more to improve the club that believes in yourself."
After Tottenham's Champions League exit to AC Milan last week, Conte admitted that the club could sack him before the end of the season, such is the uncertainty of modern-day management.
The Italian manager clarified those comments on Thursday, admitting that he has had no indication from the club that they will relieve him of his duties.
"I don't think the club is thinking this," he said of the prospect of being sacked. "I think the club sees every day what me and my staff are doing at this club. It was only an answer about my future.
"I think there is not one club who can tell the manager you are staying here until the end of the season. The future is really strange and you don't know what will happen tomorrow.
"But I repeat, in my opinion, I will try in every moment to do everything. Me and my staff.
"The club appreciates this. If you continue to ask me if I'm going to sign a new contract, it shows the club is appreciating what we [have been] doing in the last year and a half."