Jurgen Klopp urged his Liverpool side to focus on a potentially defining run of Premier League games after they exited the Champions League with a 6-2 aggregate loss to Real Madrid.
Liverpool needed a miracle to reach the quarter-finals following their 5-2 defeat at Anfield but Karim Benzema's late strike sealed another deserved victory for the reigning champions.
The defeat means Liverpool's only remaining target this season is to secure a top-four finish in the Premier League in order to clinch qualification to next year's Champions League.
Klopp's side sit six points behind fourth-placed Tottenham following their 1-0 loss to Bournemouth on Saturday and do not play again until their Premier League clash with Manchester City, after the upcoming international break on April 1.
That game at the Etihad Stadium is followed by crucial meetings with a resurgent Chelsea and leaders Arsenal, both of which are live on Sky Sports on April 4 and April 9 respectively.
"If you want to win the competition, you have to be outstanding, and we weren't tonight, so the result is fair," Klopp said of Wednesday's defeat at the Bernabeu in his press conference.
"But of course, it's the, the, competition, and we want to be part of it every year, and that's the massive task now.
"When we get back from the international break we have a proper football week ahead of us, with three games, City, Chelsea, Arsenal, which will then probably define what we get out of it.
"People will say that we lost it at Bournemouth, but this week is a pretty decisive one.
"So, we have to hope the boys come back healthy enough, in the right shape, and we will try it."
Having already exited the domestic cup competitions, Liverpool's elimination from the Champions League guarantees a trophyless season, but Klopp insists they will give their all to finish as strongly as possible in the Premier League to secure their goal.
"Our job is to squeeze absolutely everything from this season as possible," he added.
"It's a strange one so far, just our recent two games, a sensational performance against Man Utd, a very good football team, and a really bad performance against Bournemouth, again a good football team, but we should not lose this game.
"That put us again under more pressure. Three points, and I think everyone would have really felt it, smelt our breath if you like."
Klopp: The right team went through
Klopp was magnanimous in defeat at the Bernabeu, admitting his side fell well short of the "special" performance required to overturn the three-goal deficit and saying Madrid were well worthy of their place in the quarter-finals.
"Being 5-2 down is obviously not a great result and if you want to go through you need to have a really special performance, and we couldn't put a special performance on the pitch tonight," he said to BT Sport.
"It was an open game but Madrid had better chances. Alli had to make two sensational saves. In the end, the goal is a scrappy one but that's obviously not decisive anymore.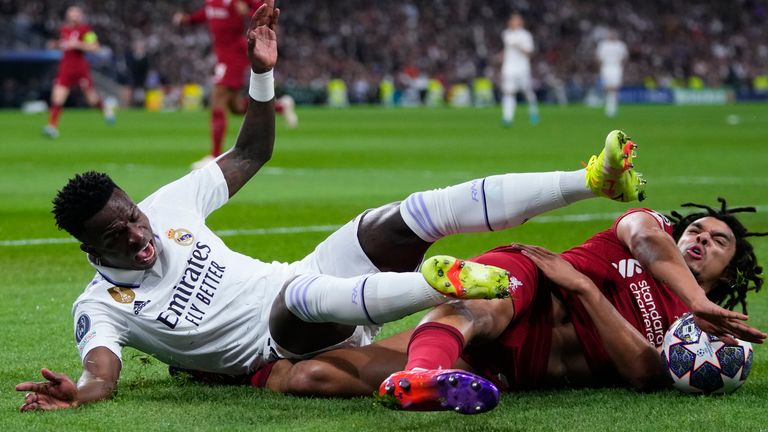 "The right team went through that's what we have to admit. Madrid controlled the game, we gave them the opportunity to control it. Knock-out stages are like this, there's probably 500,000 different ways to go out, this was ours tonight. It's not what we wanted but it's what we got. Now we have to carry on.
"You need moments. If we were to score in the first half it could give the extra spark but that is hypothetical, we will not know. Madrid were the better team and won the game. In three halves of the games they were the better team, that's how you go through to the next round.
"If you draw at home and play the game we played tonight then we go out probably as well. We can't come here and hope you get something. We prepared for a special performance but we were not able to put it on the pitch tonight. It was obvious the best side went through."
'Madrid defeat shows how far Liverpool have fallen'
The Daily Mirror's John Cross on Sky Sports News' Back Pages:
"I think last season, even the season before that, you really would have fancied Liverpool to put up a fight and pull off another miracle, as they have in the past under Jurgen Klopp, but tonight there was no sign of that.
The Telegraph's Sam Wallace and The Mirror's John Cross reflect on Liverpool's 6-2 defeat on aggregate to Real Madrid

"The feeling is that they surrendered with a bit of a whimper. We never really felt that energy and intensity that we were expecting to launch some sort of fightback. They had a couple of chances, but it was Madrid who had all the play and possession.
"To be honest, it was a bit of a damp squib. There wasn't much of a story there and it represents to me just how far they have fallen, bearing in mind these were the two best clubs in Europe last season.
"It was a really close final last year but Liverpool are now out of the Champions League and their best hope of getting back into that competition is the top four and they will really need it to launch the rebuild that Jurgen Klopp wants."