Patrick Vieira says he is "concerned" about the lack of goals in his Crystal Palace squad, adding that his front players must "change their mindset".
Although they did manage shots on target in their 1-0 defeat to Brighton – something they had failed to do in the previous three league outings – they failed to find the net for the fourth successive Premier League game.
With only four goals scored in 2023 and no wins in the last 12, a lack of cutting edge is starting to become a real issue for Crystal Palace and is leaving their manager worried.
"I'm concerned about scoring goals," Vieira said. "When I look at the team performance and looking at the work ethic and our organisation and how the players execute our plan, I was pleased with that.
"The worry I have is that when you create those opportunities but you don't take them of course, you start to be worried about that. We have to score those goals.
"The players, especially those front players, have to change their mindset. We have to be more aggressive going forward, we have to be more aggressive in the last third. I'm not going to stop putting the pressure on that I'm putting on them at the moment until we get we want."
FREE TO WATCH: Highlights from Brighton's win against Crystal Palace in the Premier League

However, Vieira was pleased with the overall performance, which often tested an in-form Brighton in attritional circumstances.
The Eagles manager added: "When you look at all the aspects of the game, the way that we organised, the discipline that we had, how aggressive we were tonight, I was pleased with that.
"We defended well, we managed to win the ball in some really important parts of the field. But what let us down is our offensive play, our decision-making in last third, not taking opportunities that let us down today.
"The difference between the two teams today is they had one shot and scored, we had lots of opportunities and chances but we didn't score.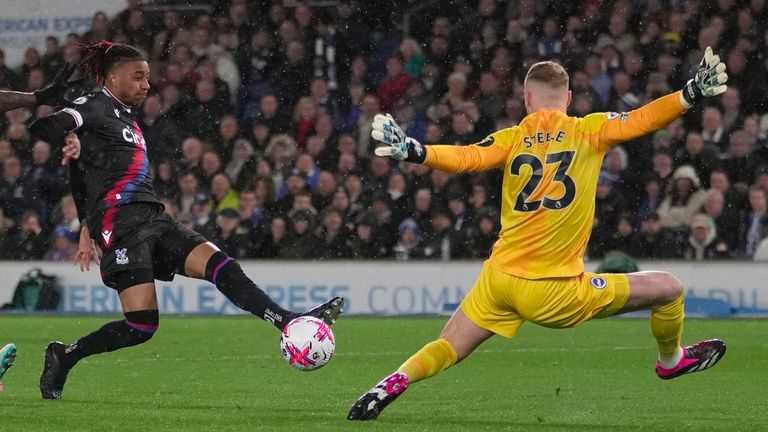 "That is the frustration I have today because the part of the game, the team, the players, they did well.
"It's not about showing more positivity, it's about showing the ingredients that you need to win matches. The players worked hard, they worked well, they competed.
"I never questioned the relationship or confidence I have with players or players have from me. The way they've been playing, we have showed we are together and I don't have any worries about relationships between players and myself."
It would have been a bittersweet debut for 19-year-old goalkeeper Joe Whitworth – a lifelong Crystal Palace fan – as he replaced an injured Vicente Guaita.
He acquitted himself too, with Vieira saying of the teenager: "It happened really quick, but Joe has a really strong personality.
"He has the self-belief and calmness that allowed him to perform the way he did. He showed lots of good things and it's even more special because he came through the academy.
"To play his first game at the professional level in a derby and a tough place, it's good for him, but we couldn't give him the win that would be perfect evening for him."
Adding an update on Guaita, Vieira revealed: "He had injuries after the training [on Tuesday] and we need to wait 24 to 48 hours to see how long he could be out."