Tottenham will be "ready for the fight" against Leicester on Wednesday after the "emotion" of Rehanne Skinner's departure from the club, interim boss Vicky Jepson has said.
Having suffered a ninth consecutive Women's Super League defeat on Sunday with a 2-1 loss at Liverpool, Spurs announced the following day that boss Skinner, in charge since November 2020, had been sacked.
Tottenham are 10th in the table, two points above bottom side Leicester ahead of Wednesday's contest at Brisbane Road, and Jepson said at the pre-match press conference: "The last 24 hours has been difficult, emotional, for myself, the staff, the players.
Highlights of the WSL clash between Liverpool and Tottenham – Skinner's final game in charge

"We all did love Rehanne and she built some fantastic foundations here and professionalised the club to get us to where we are.
"To see her exit the building yesterday was obviously a tough pill to swallow but every single one of us will be so grateful and we'll never forget the great things she did at this club.
"Once we addressed those emotions yesterday and this morning we had to get the game face on because we've got a game tomorrow night and the show doesn't stop in football unfortunately.
"The motivation now is we've just lost our manager and that's not easy to take. When results aren't going your way there's consequences and it's always the manager that gets hit with those consequences.
"The girls are feeling responsible for that and they want to put it right tomorrow. I know they will turn up tomorrow ready for that fight.
"We've reflected today and actually there's so many positives we can look back on but we've not got over the line and that's been the problem that [means] sadly we've seen our manager exit.
"It's about going forwards now, not dwelling on the past, because we have to rewrite our future and making sure we stay in the WSL.
"It [the match] won't make or break us. It's an important game but every game is important and no game is easy.
"We're ready for the fight. We've regrouped today, we've addressed our emotions because they were raw this morning and we're ready to fight for this club together as a group."
'Important to support Skinner'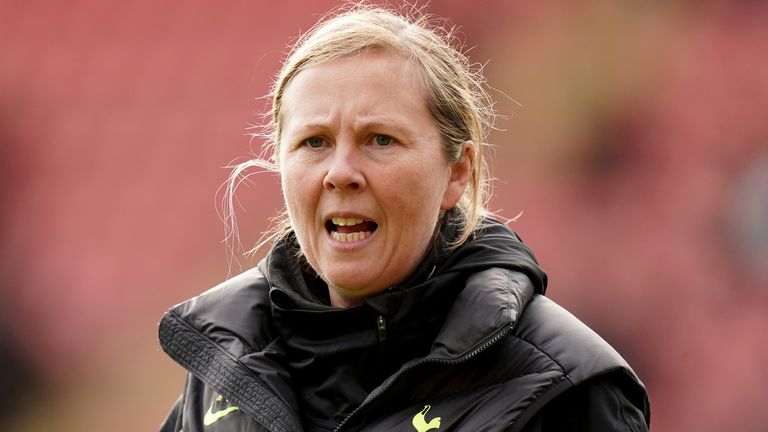 Jepson revealed she and Skinner have had emotional conversations following the manager's sacking, adding she feels it is important to support her colleague in the wake of her departure.
The interim boss said: "I spoke to her when she came out of her meeting yesterday, I spoke to her last night on the phone and we both had a cry together because I don't want to see anybody lose their job.
"I dropped her a message this morning and I'll reach out to her tonight and continue to reach out because it's important we do that when managers exit their roles, to make sure they have support around them."
In Monday's announcement Tottenham simply said Jepson, who had been Skinner's assistant, would take the team for the Leicester match.
Asked what she had been told by the club and if she wanted to stay in charge for longer, the former Liverpool manager said: "For me, if we get the right result tomorrow, which I believe we will, then we can regroup from there. But I'm told I'm to take them for the game and that's going to be my focus."
Kirk: Leicester must be ruthless
Highlights of the WSL clash between Leicester and Everton

Leicester, with Willie Kirk at the helm since he replaced Lydia Bedford in November, got their first points of the campaign on the board with a 3-0 win over Brighton in January and the four league games that have followed have included winning 1-0 at Liverpool and drawing 0-0 with Everton at the weekend.
Kirk said: "We're performing like a mid-table team rather than one at the bottom, like the table would tell you.
"We understand the situation Tottenham are in right now but we need to be ruthless and not give Spurs any encouragement."
Watch free match highlights of Tottenham vs Leicester in the WSL from midnight across Sky Sports' digital platforms